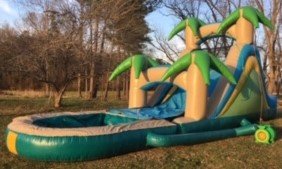 Tropical chill water slide
Don't let the name fool ya...It's the "chill" ones you gotta look out for. The Tropical Chill offers a slight climb to the top of the slide,and wide slide area into the pool.
This unit has a pool that's as big as any we've come across.
The palm trees will have you thinking you're in the caribian. Add some regga & tiki tourches (Not too close to the vinyl slide please) & your event becomes a resort.
Questions? Give us a call at 478-262-2887. Guaranteed, Funtime!